Roberta Astroff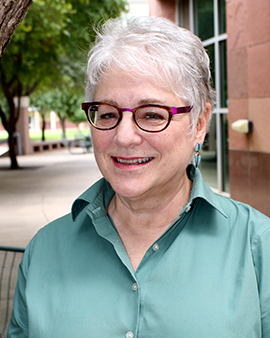 Head, Downtown Library
Downtown Library
Profile
Roberta provides collection and research support to the graduate programs in social work, counseling, and demography. As Head of the Downtown Library, she also oversees that library's general collection. Her class-based instruction for graduate seminars focuses on the nature of information needed for graduate studies as well as the appropriate resources.
Roberta also works individually with graduate students to develop the skills and vision needed to move from student to researcher, drawing on her experience as a researcher and former professor. She consults with faculty members on the materials they need for their teaching and research. She provides training in bibliographic software management programs, particularly Endnote and Zotero. She also supports the programs of UTSA's Center for Civic Engagement.
Her past research focused on media and libraries in multicultural, multilingual, and global contexts, as well as discursive analyses of disciplinarity and interdisciplinary studies. Her current research uses critical discourse methodologies and spatial theories to analyze discourse about distributed libraries in Library and Information Studies (LIS) policy documents.
Roberta holds a Ph.D. in communication from the University of Illinois; a Master of Arts in Latin American and Caribbean Studies, which she started at the Universidad Autónoma de México and completed at New York University; and a Master of Library Science from Indiana University. Her ORCiD ID is 0000-0003-0544-7496.