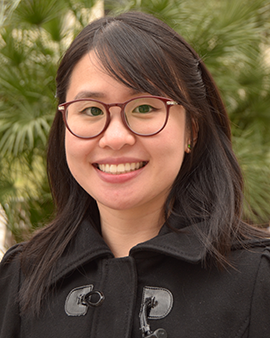 Librarian
Digital Humanities & User Engagement
Subject Specialist For
Academic Inquiry & Scholarship (AIS)

Multidisciplinary Studies
Profile
My name is Ammi (pronounced like Amy), and I'm a librarian with the new Digital Humanities & UX Department of UTSA Libraries! I'm the subject librarian for the Department of Philosophy and Classics, the Academic Inquiry & Scholarship (AIS) program, and the Honors College. I also handle Outreach and Engagement activities/programming for the library!
If you need help finding sources for your papers, feel free to send me an email! I am also available for one-on-one reference consultations! For faculty, if you'd like me to do a library research instruction session for your class, let me know and I'd be happy to work with you on getting that set up!
A bit more about me: I co-host the UTSA Racial Justice Book Club with Ann Margaret Trujillo from the Multicultural Student Center for Equity and Justice (MSCEJ). I have a B.A. in History from the University of California San Diego (UCSD) and an Master's in Library and Information Science from the University of Washington. Outside of UTSA, I serve on the ACRL Changing Roles and Landscapes Committee and the Texas Conference on Digital Libraries (TCDL) Committee.