Andy A. Villareal Exhibit
From July - September, 2021, the Mexican Cultural Institute (MCI) in partnership with the UTSA Institute of Texan Cultures hosted the Andy A. Villarreal art exhibition curated by Arturo Infante Almeida, Art Specialist and Curator for the UTSA Art Collection.
---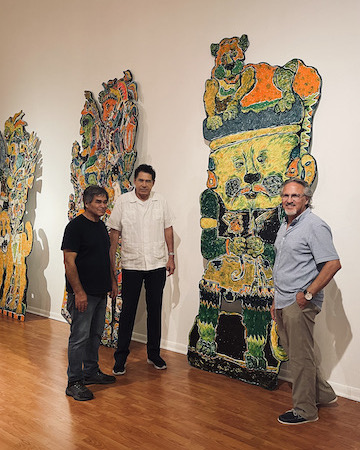 Curator's Statement
Andy A. Villarreal is a native son of San Antonio. He began to paint at the age of five. At age fifteen, he met Melesio "Mel" Casas, who became his mentor. He studied under Casas and the two artists formed a life-long friendship, profoundly influencing his work.
Through four decades, he has devoted his life to perfecting an abstract visual language steeped in bold color, humor, and irony. He has taught, lectured, and exhibited his work nationally and internationally.
The work in this exhibition references the civic, political, and religious life of the Maya civilization. Aspects of Mayan culture, discerned from codices, Spanish writings, and the art and architecture that survives throughout the Yucatán Peninsula. Mysteriously, around the tenth century A.D., Mayan cities were abandoned. Mesoamerican cultural remnants survive throughout Latin America.
The exhibit features 27 paintings on cut wood, created over the last two years. Focused on Mayan customs, rituals, and traditions, the narratives in his work unearth the cultural memory linking the past to the present.
Arturo Infante Almeida, Exhibition Curator