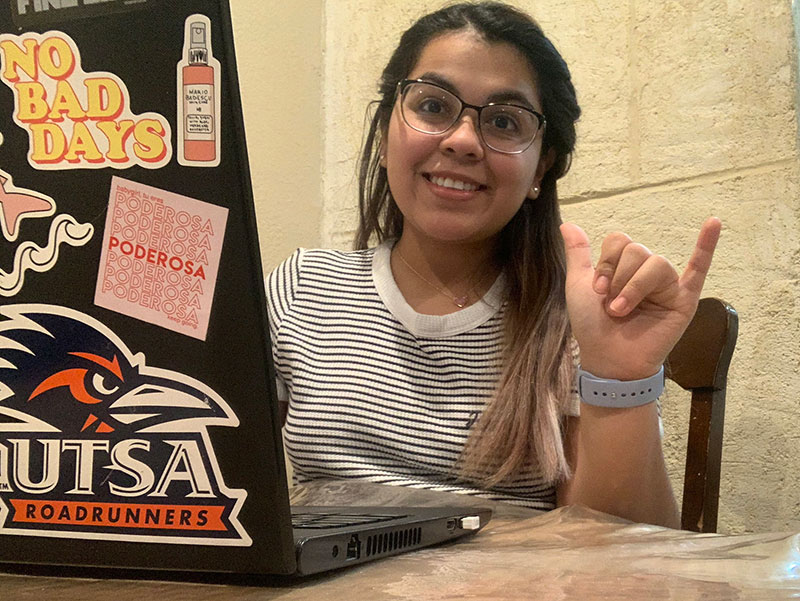 UTSA Libraries Peer Coaches normally mentor fellow Roadrunners seeking help with research papers and projects, but as the campus transitioned to remote learning, they now are helping in new ways—by getting the word out about free events available from a San Antonio literary organization.
The Peer Coaches are partnering with Gemini Ink to promote the "Big Texas Read," a virtual book club that allows participants to connect with Texas authors and readers throughout the state for online chats every two weeks. 
"I'm so excited to be working with Gemini Ink," said Peer Coach Silvia Lira-Perez, a senior Cyber Security and Information Systems major. "It's awesome how despite all the hardships, they are finding ways to overcome them through virtual book clubs and online writing sessions and providing for the community."
Both Perez-Lira and Peer Coach Emily Rogers, a junior Anthropology major, are helping spread the word to UTSA students, faculty and staff, especially those interested in creative writing and English. They are hoping to get university and college students from throughout Texas involved as well.
Along with promotion of the months-long virtual book club, the students will be providing technology support to Texas authors as they prepare to deliver virtual writing sessions. 
"I can't wait to see what I gain and learn from this experience," Perez-Lira said. "I think it will be a great way to get out of my comfort zone."
Melissa Cadena, Library Services Assistant IV and coordinator of the Peer Coaches, said students will gain valuable experience through the partnership.
"We are happy to support a great organization whose goals fall in line with the goals of the UTSA Libraries," Cadena said. "It gives our coaches experience with community engagement while allowing them to continue serving students."
Gemini Ink Executive Director Alexandra van de Kamp said the partnership with the UTSA Libraries seems like a natural fit. Because the impact of COVID-19 on the city has been so difficult, Gemini Ink has been working to offer free programs during this time, such as YouTube video lessons for at-risk youth, she said.
"We're well aware of income inequities, and though many at-risk youth don't have computers at home, they have cellphones and can access YouTube," van de Kamp said. "Literary arts can play a huge role in mental health support for both youth and adults, and we're excited that the Peer Coaches can help reach out to the community more."
The first meeting of the free virtual book club will take place at 7 p.m., Thursday, April 29 with a discussion of San Antonio author David Samuel Levinson's "Tell Me How This Ends Well."  Levinson will lead the Zoom discussion every two weeks through June 10. Those wishing to participate can RSVP at the Gemini Ink website. 
The UTSA Libraries are at the forefront of reimagining the 21st-century academic library. With four locations across three campuses, the libraries are fueling UTSA's ascent to a premier public research university by providing students and faculty with seamless, comprehensive access to information and learning resources as well as innovative spaces for active learning and interdisciplinary scholarship.