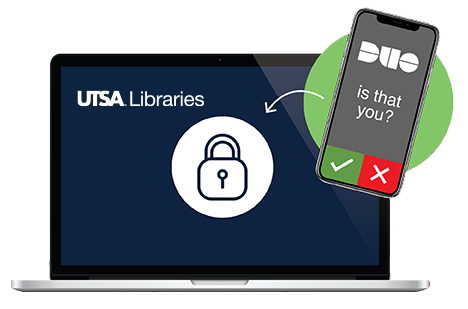 MAY 27, 2021 — Beginning today, DUO two-factor authentication will be required to access the millions of e-books, e-journals and scholarly resources available at the UTSA Libraries.

Students, faculty and staff wishing to log in to the libraries' electronic resources will be required to set up accounts using the DUO app on a mobile device—the same way students access financial information on ASAP.

Adding a second layer of security to library accounts is part of a continued effort to protect data across UT System libraries.

"This updated process safeguards the information infrastructure," said Dean Hendrix, dean of UTSA Libraries. "This prevents unauthorized use of university assets and allows us to better steward access to scholarly work."

Because cyber-criminals have devised sophisticated methods for stealing login credentials, two-factor authentication has become best practice to help prevent data theft.

Two-factor authentication is a method of verifying a person is who they claim to be by requiring two different assurances of identity. At UTSA, these assurances include a passphrase and a mobile device or token.

"Our goal is to make the new process safe and seamless," Hendrix said. "We encourage students, faculty and staff to download DUO before visiting the library website, and we thank the university community for helping us protect library resources."
The UTSA Libraries are at the forefront of reimagining the 21st-century academic library. With four locations across three campuses, the libraries are fueling UTSA's ascent to a premier public research university by providing students and faculty with seamless, comprehensive access to information and learning resources as well as innovative spaces for active learning and interdisciplinary scholarship.