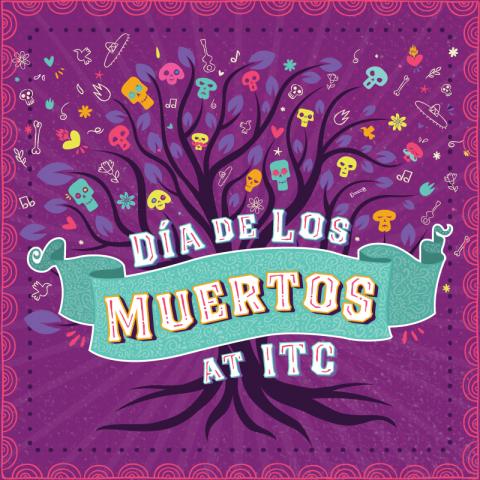 (OCTOBER 3, 2022)  The UTSA Institute of Texan Cultures (ITC) is partnering with the Honors College and UTSA Libraries for a month-long observance of Día de los Muertos. The university's celebration will include a traditional ofrenda, hands-on demonstrations on making nichos—shadow boxes dedicated to loved ones—and an exhibit at the ITC.
Día de los Muertos blends Christian and Indigenous Mexican beliefs and practices to honor deceased family members and friends. The celebration encompasses All Saints' Day and All Souls' Day, and its festive imagery has become visible in celebrations across the United States and the world.
"Dia de los Muertos is a rich and varied tradition, one of significance to the UTSA and San Antonio community, and it is an ideal occasion for the Honors College, UTSA Libraries and Institute of Texan Cultures to blend academic learning and a celebration of cultural heritage," said Libraries Student Engagement chair Ammi Bui. "Our collaboration affords us the opportunity to showcase our extensive cultural and community resources to the UTSA community and to San Antonians, and it opens the door for us to partner on other exciting events in the future."
Alegra Lozano, assistant professor of practice in the Honors College, offers an Honors Day of the Dead seminar class, which studies the long-practiced tradition of honoring the dead. The class culminates in a student-produced exhibit including a traditional ofrenda (altar), and other elements that are displayed at the ITC. This is the fifth year the class will be partnering with the ITC to make its project viewable to the public.
"This cultural observance has grown in significance and visibility over the last few years," Lozano said. "Calaveras and sugar skull art motifs have become more mainstream and movies that are based on the celebration such as The Book of Life and Coco have had great success."
The Honors College Day of the Dead class has chosen "Recuerdos Eternos (Eternal Memories): A Journey Back Home" as the title of this year's exhibit. The students will create an ofrenda around that theme while incorporating traditional elements such as marigold flowers, salt, water, incense, pictures, personal tokens and religious icons.
"Our collaborative efforts shine a spotlight on an important piece of the heritage of so many Mexican Americans in this city and at our university," said Liz Lopez, ITC curator of education. "The nicho classes and exhibit are about the foundational elements of El Día, why it matters to Latinx and indigenous communities, how it is celebrated and how it is becoming a part of our contemporary culture."
The ITC and UTSA Libraries invite the UTSA community and the general public to remember those who have entered the next part of life and join one of the upcoming nicho-making workshops. The boxes made will then be displayed as part of an exhibit at the end of the celebration.
Upcoming dates to remember:
Monday, October 10, Noon-1pm - Student Nicho box Workshop,  John Peace Library, Group Spot B (2nd floor). 
The library will provide everything needed to create the nicho boxes. Attendees should bring a photo of their loved one or small object of remembrance that can fit in a 3x3x1 inch box. Limited number of participants allowed; click here to register. The workshop is for UTSA students only.
Friday, October 14, Release Day - Nicho box Quick Start Guide & Video
Families waiting to observe Día de los Muertos can download a guide and other support materials courtesy of ITC staff at texancultures.utsa.edu.
Sunday, October 16, 11am-3pm - Nicho box Workshop, ITC, Room 1.01.01 (1st Floor), 801 E César E. Chávez Blvd, San Antonio, TX 78205
The museum will provide everything needed to create the nicho boxes. Attendees should bring a photo of their loved one or small object of remembrance that can fit in a 3x3x1 inch box. Click here to register. This workshop is open to the public.
Friday, October 21 thru November 5 - Recurdos Eternos: A Journey Back Home Exhibition, ITC, 801 E César E. Chávez Blvd, San Antonio, TX 78205
The exhibit opens to the public at the ITC Bluebonnet Theater, Thursday-Sunday 10am-4pm. Read more.
---
EXPLORE FURTHER
⇒ Visit the UTSA Honors College.
⇒ Visit the UTSA Institute of Texan Cultures.
---
The public is invited to follow UTSA Honors College students on social media as they progress in building their nichos and altar. They will be posting on TikTok (@Recuerdos.Eternos) and Instagram (@UTSADayOfTheDead and @utsarecuerdos.eternos). The students will share videos offering insights, FAQs and other relevant materials.