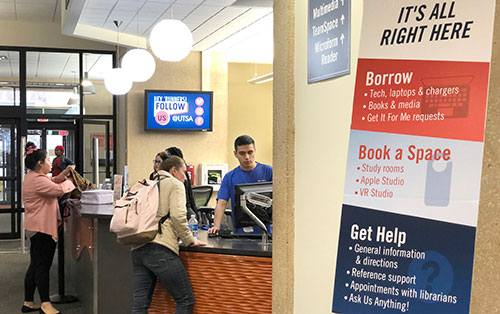 In an effort to better serve students and faculty, the John Peace Library will combine the circulation desk and information desk into a single-service area, making it easier to borrow, book space and get help. 
It will be located at the second-floor entrance of the JPL in what was previously the circulation desk.
Consolidating the two desks enables the library to offer a more cohesive approach to academic pursuits and research needs, putting all library functions into one single location.
In addition to services already offered through the circulation desk, such as course reserves, technology lending, Get it for Me, and study room reservations, the consolidated main desk will enhance the user experience by adding research support for papers, projects and assignments. 
UTSA Libraries would like to thank the UTSA community for supporting this effort to unify service areas and encourages all students, faculty and staff to visit the new desk.