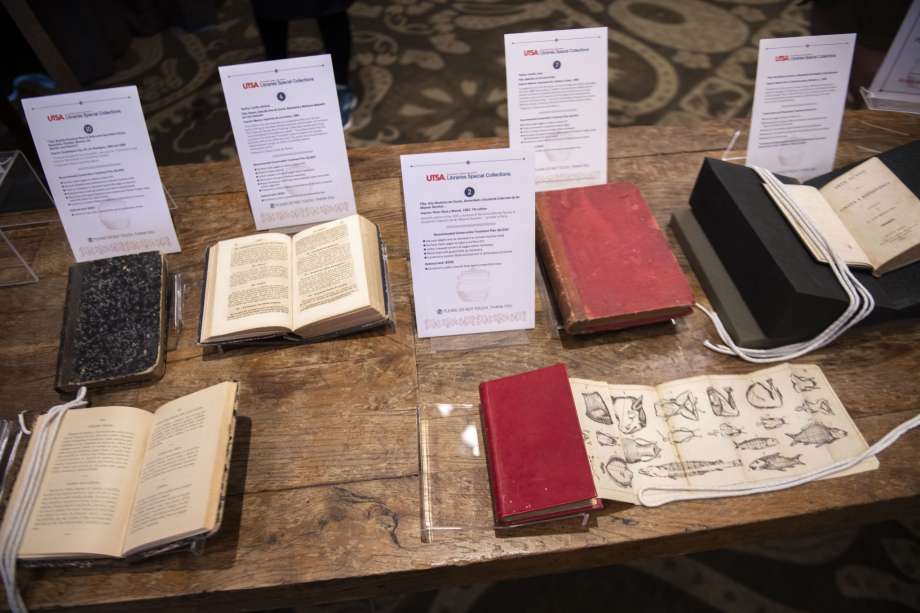 FEBRUARY 14, 2020 — Unique, handwritten recipes of traditional Mexican dishes dating as far back as 1789 can be viewed online as part of the digitization efforts of the UTSA Libraries' Mexican Cookbook Collection, one of the nation's largest of its kind.
The books provide an intimate view of domestic life and culinary culture in Mexico and include a number of recipes such as pollo en agua dulce (chicken in sweet water), panque de mantequilla (buttered sponge cake) and guisado de chile (chili stew).
"Digitization of our materials is an important piece of what we do," said Amy Rushing, assistant dean of UTSA Libraries Special Collections. "We aim to remove as many barriers as possible to accessing our collections, and digitizing materials allows us to put them online, make them discoverable and share them with the widest possible audience."
Special Collections has scanned more than 50 books to make the contents accessible online. It features a selection of the most rare and fragile pieces of manuscript cookbooks, preserving the one-of-a-kind source material.
"Our Mexican Cookbook Collection is one of our most used collections," Rushing said. "We are proud to be able to share a piece of it with those who are unable to travel to San Antonio, and we will continue to add more online in the future."
Digitization of the manuscript cookbooks is an ongoing effort, and most recently, Special Collections has begun transcribing portions of it, making the content more discoverable.
The Mexican Cookbook Collection includes more than 2,000 texts in both English and Spanish from 1789 to present, with most dating from 1940 to 2000.
In addition to broad general coverage the collection includes concentrations in the areas of regional cooking, healthy and vegetarian recipes, corporate advertising cookbooks and more than 100 manuscript recipe books.
The UTSA Libraries Special Collections preserves and provides access to the legacies of UTSA, San Antonio and South Texas through a rich array of rare books, photographs and primary sources. Strengths of the collections include UTSA's institutional history, women and women's history, activists/activism, Mexican Americans, San Antonio authors and artists, Mexican and Tex-Mex culinary history, and urban development and growth.
View the digital collection and learn more about UTSA Libraries.
Learn more about how to support the continuing digitization efforts of the Mexican Cookbook Collection and to help document the diverse histories of San Antonio and South Texas.