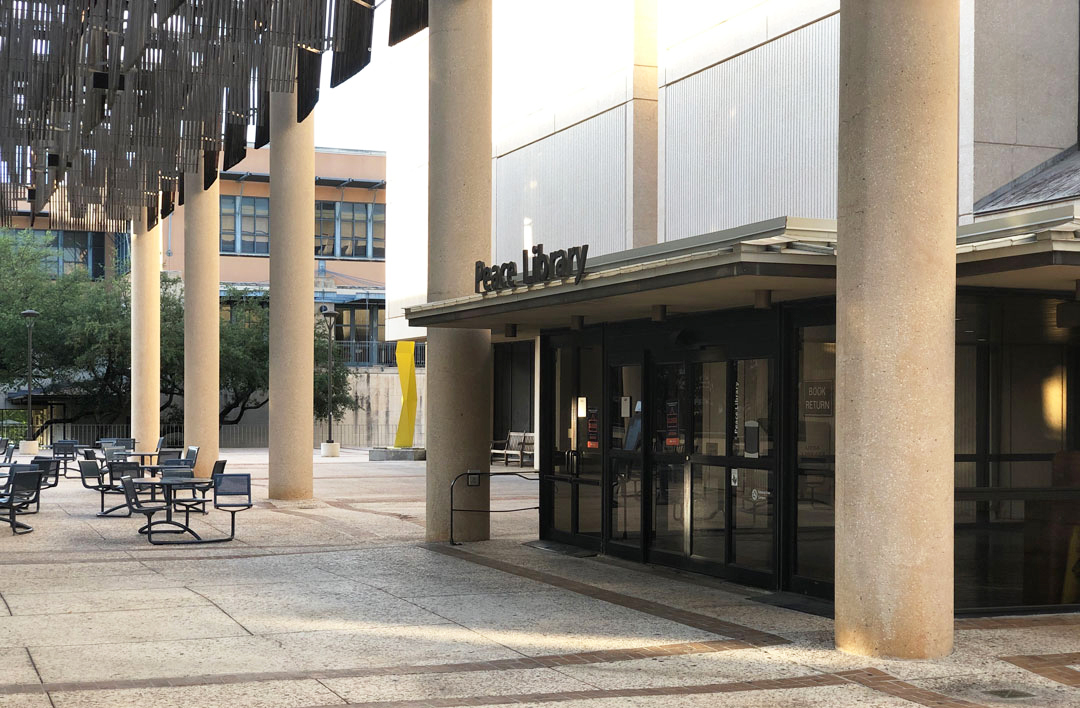 Students, faculty and staff wishing to return borrowed books and other materials from the UTSA Libraries may now do so during limited hours at the John Peace Library on UTSA's Main Campus.
Libraries staff have implemented a process for the safe return of the materials from noon-5 p.m. May 2-3, May 9-10 and May 16-17.
UTSA Libraries have extended the return process for two additional weekends to include noon-5 p.m. May 23-24 and May 30-31.
As part of the plan, return bins will be placed in the foyer of the JPL second floor entrance. Only the entryway to the building will be accessible. 
Borrowers are asked to enter the foyer, one at a time, and deposit items into the bin. In order to follow proper social distancing protocols, each borrower is asked to exit immediately.
Please be aware of others who might be returning items when approaching the building. If the space is occupied, wait outdoors at a safe distance until the space is empty.
Libraries staff will collect and process returned items at a later time. Please allow three weeks from the date of return for the items to be removed from library accounts. 
Returns can only be accepted at the second-floor entryway to the John Peace Library on Main Campus. Other UTSA Libraries, including the Downtown Library, cannot accept returns at this time. 
Please note that the John Peace Library will remain closed until further notice.  
Additionally, borrowed laptops should NOT be returned to the UTSA Libraries. For those who borrowed laptops, please wait to hear from the UTSA Tech Café for further instructions. 
For more information about your personal library account, please contact circulation@utsa.edu.
UTSA Libraries Return Schedule
When: Saturday and Sunday, Noon-5p.m.
May 2 and May 3
May 9 and May 10
May 16 and May 17
May 23 and May 24
May 30 and May 31
Where: John Peace Library, Main Campus, Second Floor Entryway
Tip: Take a photo of your return for your records
Note: UTSA Police will monitor security cameras in the area to ensure safety of returns
The UTSA Libraries are at the forefront of reimagining the 21st-century academic library. With four locations across three campuses, the libraries are fueling UTSA's ascent to a premier public research university by providing students and faculty with seamless, comprehensive access to information and learning resources as well as innovative spaces for active learning and interdisciplinary scholarship.