(July 27, 2022)
Culinary anthropologist Diana Kennedy passed away in her home in Zitácuaro, Michoacán, Mexico on Sunday, July 24. She was 99 years old.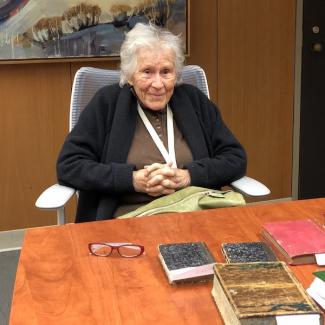 Kennedy, an expert on traditional Mexican cooking who self-identified as an ethno-gastronomer, became a special friend of UTSA Libraries Special Collections just a few short years ago. She built her expertise in Mexican cuisine through 50 years of travel throughout Mexico. She graciously bestowed to the care of UTSA Libraries her life's work, which documents her research and travels to each Mexican state; the development of her cookbooks; the publicity she received, and the awards she won throughout her career and her personal life spanning 1941-2019.
Kennedy visited with people in their homes and in local markets to conduct research on and meticulously document native ingredients, traditional recipes, and local plants and herbs. During her career, she authored nine cookbooks and is known for giving credit where credit is due. She never claimed the recipes as her own. She attributed each recipe to the individual who shared it with her.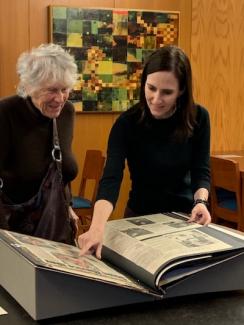 A native of Britain, Kennedy received numerous honors over the course of her journeyings and love affair with Mexican culture and cuisine. She received an honor from the Order of the Aztec Eagle, the highest honor awarded by the Mexican government to foreign nationals, and the Order of the British Empire.
In 2019, UTSA Libraries Special Collections acquired Kennedy's collection of 11 19th-century Mexican cookbooks. Included was the extremely rare 1828 cookbook, Arte nuevo de cocina y repostería acomodado al uso mexicano, which has now been fully digitized and is available online.
"Diana Kennedy was a trailblazer who made the traditions of Mexican culture and cuisine accessible to all, and we are deeply grateful for her commitment to sharing her knowledge and experiences through her cookbooks," said UTSA President Taylor Eighmy. "Although Diana will be greatly missed, we will proudly uphold her legacy through her collections housed at UTSA Libraries Special Collections to ensure her stories and culture live on forever."
Kennedy hand-delivered the antiquarian books to UTSA in February 2019. She chose UTSA as the steward of her collection due to San Antonio's strong connection to Mexico and UTSA Special Collections' extensive Mexican cookbook collection. "I think it seems to be a natural bridge between Mexico and the U.S., really," said Kennedy of her collection finding its home in San Antonio. "San Antonio has always been a good crossing point, and I think it (my collection) would be used here."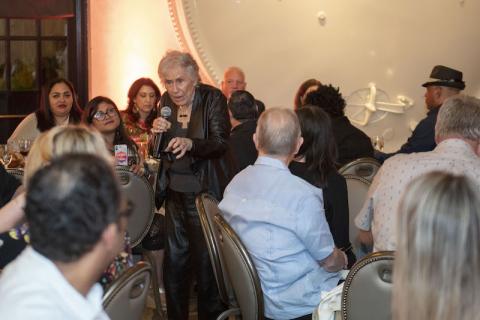 "She opened the box and took every book out and got very emotional, said they were her babies," said Amy Rushing, assistant vice provost of UTSA Libraries Special Collections of Kennedy's 2019 journey to San Antonio. "You could see that it was hard for her to turn them over."
"She entrusted us with her legacy, which has and will continue to inspire chefs and researchers of Mexican cookery well into the future. It's an honor and privilege to be stewards of her collection, preserve it and share it with the world," Rushing added.
In addition to the rare books, Special Collections also is the home of Kennedy's rich and extensive archives of handwritten research notes, scrapbooks, menus, photographs, publicity and awards, correspondence with key culinary individuals and friends, and material documenting the development of her cookbooks. The archives offer an intimate view and first-hand account of Kennedy's travels and research.
"Diana lived a life of adventure, curiosity, and of course, great food. We will miss her very much," said Dean Hendrix, UTSA vice provost & university librarian.
In 2020, Special Collections received an additional 152 books from Kennedy's working library. These books were her personal reference library—books she would consult while researching. Some of the books contain her notes in the margins.
Explore Further
The Diana Kennedy archives, as well as her collection of rare books and reference books, are open and available to the public. To visit the collection, contact specialcollections@utsa.edu.
Help Honor and support Diana Kennedy's Legacy
For those interested in contributing to the ongoing preservation of the Diana Kennedy Collection, you may donate here.