MAY 18, 2021 – To help ease the burden of the high costs of textbooks, Scott Sawtelle and Kathleen Curry have committed $100,000 to the UTSA Libraries' Adopt-A-Free Textbook program which supports faculty in utilizing free and low-cost learning materials.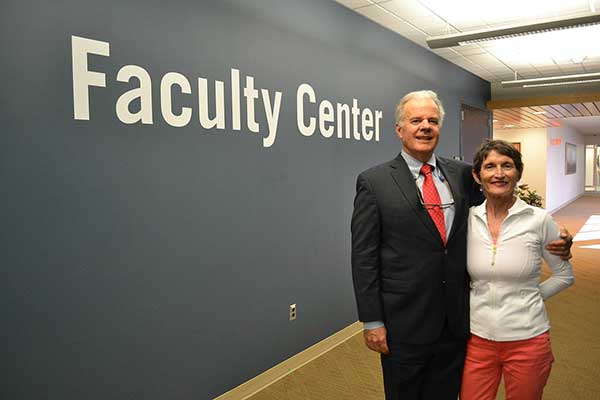 The gift is the largest commitment to the free textbook program and will allow additional grants to be funded to professors who adopt open access resources in their courses.
"Kathleen and I thought it was a great idea to provide students—and the professors who teach them—with this opportunity to have greater access to study material," Sawtelle said. "Going to school and getting a degree is the first big statement in a young person's life, and we hope we can help as many students as we can make that first big statement."
Sawtelle is a long-time executive in the financial services industry and has over 40 years of experience in financial planning. He served in the United States Marine Corps during the Vietnam War and, in 1973, earned a bachelor's degree from The University of Texas at Austin.
He said he hopes the gift will support the libraries in helping remove the barriers that obstruct student success.
"I worked hard and had wonderful mentors throughout my life who helped me succeed," he said. "I encourage UTSA students to find mentors who can help them in the same way, and I encourage them to lean on professors and librarians who can help achieve educational goals."
Sawtelle and Curry initially gave $25,000 as part of a challenge gift during UTSA's first giving day on April 6. During the event, 75 donors were challenged to contribute to the UTSA Libraries and the Institute of Texan Cultures in order to unlock the funds. That goal was quickly met during the day, and, as a result, the couple has pledged an additional $25,000 annually over the next three years.
"We are wholeheartedly grateful and humbled by the generosity of Scott and Kathleen not only for their challenge gift during giving day, but also for their commitment to help fund our free textbook program," said Dean Hendrix, dean of UTSA Libraries. "We foresee that this gift will have an immediate impact on several thousand UTSA students and will only grow exponentially over time. It will truly help put the libraries at the forefront of championing open resources for students."
The Adopt-a-Free-Textbook grant program was created to support the adoption and adaptation of open educational resources (OER) at UTSA, offering an incentive for faculty to integrate free textbooks into courses. With OER, students don't have to buy hard-copy books or pricey online texts which often cost $100 or more per book.
"OER studies show that offering free textbooks to students increases test scores and decreases drop and fail rates," said DeeAnn Ivie, open education coordinator and UTSA librarian. "The donation from Mr. Sawtelle and Ms. Curry will most certainly help students with the cost hurdle so that they may focus on learning. We are profoundly appreciative and exceedingly grateful to them for helping continue this effort."
Over the last 10 years, UTSA professors who have participated in the grant program have saved students over $8 million in textbook costs. Sawtelle says the gift is his way to mentor students to continue to persevere, especially as costs continue to rise and pressures continue to mount.
"An important part of life is to help people discover who they are, so that they may become successful. I think that's what getting an education can do," he said. "It helps young folks discover their true potential so that they can go out and make a difference in the world. That's why we give—so we can help inspire potential."
 
The UTSA Libraries are at the forefront of reimagining the 21st-century academic library. With four locations across three campuses, the libraries are fueling UTSA's ascent to a premier public research university by providing students and faculty with seamless, comprehensive access to information and learning resources as well as innovative spaces for active learning and interdisciplinary scholarship.