(June 23, 2022)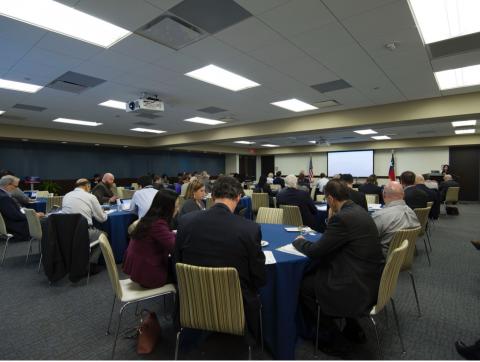 The John Peace Library Assembly Room located on the fourth floor (4.04.22) will see improvements to modernize the space and enhance services for the UTSA community. Beginning Monday, August 22, 2022, the room will be closed throughout the fall semester, reopening in early spring 2023.
As part of UTSA's classroom renovation project, this presentation venue, with seating for up to 120 people, will receive new paint, lighting, technology upgrades, and monitors. These upgrades will allow for better delivery of hybrid and video conferencing events.
While the Assembly Room is closed, the Faculty Center, located next door, is open for faculty needing small meeting spaces that hold up to 20 people. The Faculty Center also includes collaborative spaces and a casual seating area where faculty can informally meet, work alone, or just relax with a complimentary cup of coffee. Faculty can reserve Faculty Center meeting rooms beginning on July 1, 2022, for the fall semester via the Faculty Center website.
"We are eagerly anticipating the technology upgrades this closure will bring, said Denise Villarreal, senior events manager. "We recognize the closure will be inconvenient for faculty, but the more state-of-the-art upgrades will increase the deliverability and quality of their meetings and events when the room reopens."