Just in time for a new academic year, UTSA Libraries launches a mobile-friendly website during the week of August 14.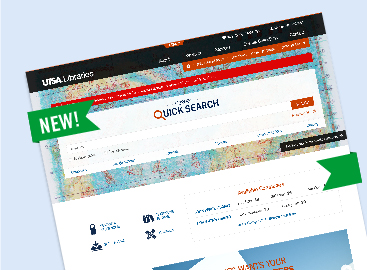 The project was prompted by a Pew Research study, which found that 13 percent of Hispanics and 12 percent of blacks depend on their smartphone for Internet access. Although a number of ethnicities have similar rates of smartphone ownership, minorities rely most heavily on cell phones for Internet access. Often not having reliable broadband connections at home, the survey showed 45 percent of Hispanic smartphone owners use their mobile devices for online classes and other educational content. As of fall 2016, 51 percent of UTSA students identified as Hispanic and 9 percent as black.
"As a Hispanic-serving institution, we had to do a lot of homework to make sure that we were addressing the core needs of our users," said Special Projects Librarian Veronica Rodriguez. On the project team since the beginning, she credits the website's new layout in part to an in depth user-testing process.
"Developing the home page, we definitely spent a lot of time with undergrad students—especially first-generation students—working on usability for them," said Rodriguez. Similarly, upperclassmen, staff and faculty were consulted and taken into consideration. "We wanted to see how we could make the homepage useable for all groups."