(November 30, 2022)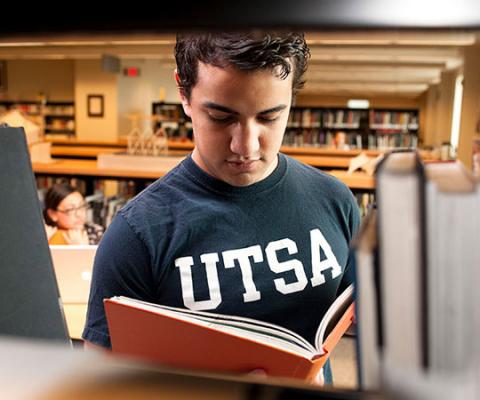 An organization that includes UTSA has inked a new agreement that will not only put copyright back in the hands of authors but will also result in broader access to scholarly works for students and faculty.
The Texas Library Coalition for United Action (TLCUA) formed in 2019, specifically to advocate and evolve the relationship between libraries and publishers, forged a new licensing agreement with Elsevier, one of the largest publishers of scientific journals, that will enable UTSA and other member libraries to retain access to over 1,600 Elsevier journals, realizing a combined savings of millions annually. The agreement is effective through the end of 2024.
"This puts more content in students' hands, as less of their student fee is being dedicated to our annual purchase from Elsevier," noted Dean Hendrix, UTSA vice provost and university librarian.
The TLCUA is made up of 45 public and private universities across Texas, including all 14 University of Texas institutions. It is one of the largest and most diverse library consortia in the United States.
The deal with Elsevier aligns with the mission of the TLCUA—improved access to scholarly works, greater control over faculty content, and pricing models that are sustainable for libraries in the higher-education system with strained budgets.
"UTSA's participation in the coalition is an important step in collaboratively advocating for increased access to open scholarship and sustainable scholarly research pricing models," said Posie Aagaard, UTSA Libraries assistant vice provost of collections and curriculum support. "The coalition's success negotiating with a major publisher on behalf of a diverse group of Texas universities underscores willingness on both sides to work toward new ways of doing business ."
TLCUA and Elsevier also agreed to partner on a pilot project to revert ownership of selected journal articles to the original authors. For years, authors have transferred the copyright of their work to Elsevier in exchange for that work being published. The pilot will return the copyright to authors after a period of time so that they may disseminate their work however they see fit.
A subset of Elsevier journals will be chosen to study the impact of the copyright reversion pilot for authors and its applicability more broadly to STEM (scientific, technical, engineering, and medical) publishers.
Beyond the initial cost savings, Elsevier has agreed to a maximum annual increase of 2% over the term of the license agreement. Additionally, researchers can save thousands of dollars through new article processing charge (APC) discounts to publish in Elsevier's open access journals.
TLCUA also negotiated a license template that removed non-disclosure terms and restrictions on how member libraries share and use data. The template also succeeded in lifting limitations on interlibrary loans that were established more than 40 years ago.
Hendrix stated, "Collaborating with other libraries across the state, UTSA Libraries made scholarly research more accessible and affordable to our faculty and students. We will continue to collaborate into the future in service to the sciences, social sciences, arts, and humanities."