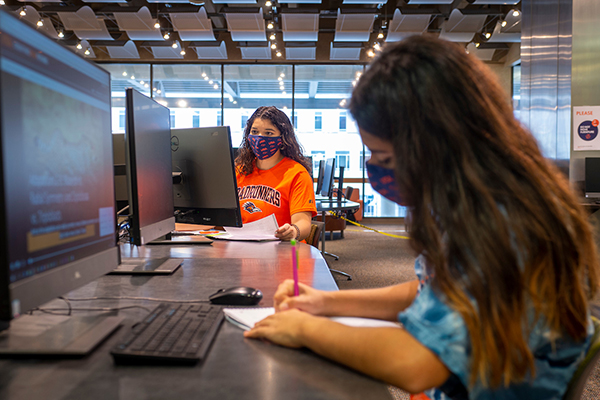 AUG. 16, 2021—Fall operations at the UTSA Libraries will resume as planned, and several locations will be open beginning today with study rooms available for booking via the library's online reservation system.

The John Peace Library on Main Campus is open with intersession hours this week. 24-hour service will return on the first day of classes, Monday, Aug. 23, and it will remain open continuously five days a week during the fall semester.

The Downtown Library is open beginning today, and the Applied Engineering and Technology Library will open Aug. 23. For a full list of hours and locations, visit lib.utsa.edu/hours.

Locations will operate at reduced density levels to meet university guidelines and to support on-campus students. Additionally, several library services will be available to those who need access to materials and spaces. They include:

Borrowing Materials
With ongoing renovations on the third floor, browsing will not be available at this time. Instead, users may access library materials using the following methods:
In-person: Request an item from library staff at the front desk of the JPL. Look for Get It for Me signage.
Curbside delivery: Request an item using the Get It for Me system on the library website, and pick it up near the drive-up book drops at the JPL or DTL. Select your preferred location when requesting the item.


Locker delivery: Request an item using the Get It for Me system on the library website and choose locker pickup. Lockers are located at the entrances of JPL and DTL. Select your preferred location when requesting the item.
Study Rooms 
A limited number of study rooms will be available for reservation. Users are asked to limit the number of people inside each room in order to keep a safe distance from others. Reservations can be made for up to two hours at a time.
Laptops 
Laptops are available only to currently registered UTSA students, who may sign up for one using the online request form. Most laptops will be available for semester-long checkout. A limited number of laptops will be available for 24-hour checkout.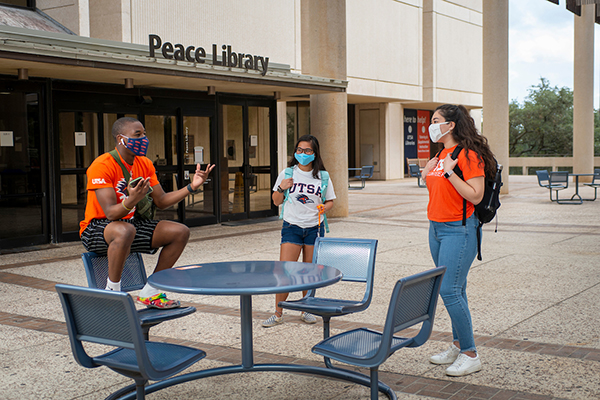 E-Reserves
UTSA Libraries has a selection of print textbooks on reserve primarily for lower-division, high-enrollment classes. Print textbooks put on reserve by faculty will be available for student checkout. The Libraries will make materials available in digital format whenever possible. The Libraries cannot guarantee that it will be possible to fulfill all requests due to availability, licensing and copyright issues. 
Online Services
The Libraries' highly used online services will continue, including:
Remote access to databases, e-journals, e-books and streaming media
Ask Us Anything reference service
Librarian consultations via Zoom 
Get Help from Your Librarian
Librarians use their in-depth knowledge and expertise to assist with general and subject-specific research. Students can schedule a meeting by clicking the calendar icon beside the subject librarian they are seeking and book a time. To find a librarian, visit lib.utsa.edu/librarian.
Ask Us Anything 
For reference questions, chat with the Blue Crew using the widget on the lower right-hand corner of the library website at lib.utsa.edu.