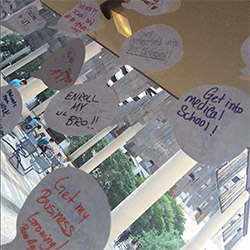 Summer and early fall are busy seasons at the UTSA Libraries, full of activities to welcome and orient the newest members of the UTSA community.
Over the last few months, almost 3,600 incoming students attended UTSA's Roadrunner Roundup orientation, which included a visit to the John Peace Library. When they arrived, Blue Crew staff eagerly greeted the students with refreshments and provided a quick introduction to the library's many resources and services.
To ease students into starting a fresh semester, welcome tables were set up at the entrances of the John Peace and Downtown libraries during the first two days of classes. Equipped with maps and snacks, over 1,200 students descended upon the tables seeking help and sustenance. A crowdsourced art project added to the fun, with students filling the entryways with hand-written sticky notes indicating one thing they hope to accomplish before they graduate.
Never satisfied with simply waiting for students to grace our doors, our librarians were out on campus in full-force during the first few days of the semester, participating in a wide array of college-based information fairs.
Students weren't the only ones gearing up for the new academic year. In early August, librarians held a workshop for faculty on integrating information literacy skills into their Academic Inquiry & Scholarship and Freshman Composition courses, required of all first-year students at UTSA. Instructors were given the opportunity to review the library's latest tutorials and lessons plans on topics ranging from strategic searching to research question building to citation management, and received helpful tips on aligning these skill-building tools with their courses.