(February 14, 2023)
UTSA mourns the passing of one of San Antonio's iconic artists, Jesse Treviño. A visionary, Jesse captured the joy and beauty of day-to-day life in San Antonio in his paintings. His realistic painting style captured the vibrancy of the people of Westside San Antonio.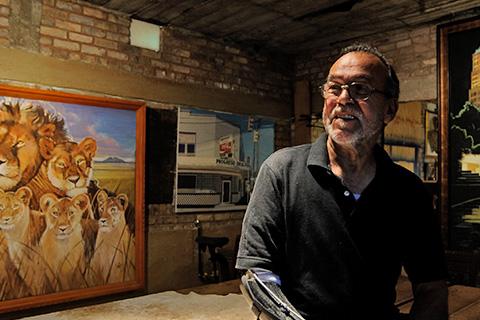 His art and spirit are also woven into the fabric of our young university. In 1978, Jesse received his MFA in painting from UTSA. UTSA acquired several of Treviño's paintings including The Printer, a portrait of Ruben Munguia inside his Westside print shop, and a portrait of Cesar Chavez which beautify our university campuses. His beautiful tile sculpture, "La Veladora", at the Guadalupe Cultural Arts Center, stands across the street from UTSA's Westside Community Center, proudly greeting a new generation of San Antonians.
UTSA art curator Arturo Infante Almeida stated, "Jesse Treviño's art is a significant part of the San Antonio landscape. His work proudly reflects a passion for his community, culture, and its voice in history."
Our hearts go out to the family, friends and others who knew and loved him.
-Arturo Infante Almeida
-Dean Hendrix
-Teresa Niño
View Jesse's art works in UTSA's Art Collection
Photos of Jesse Treviño used in this story and on the UTSA Libraries News section were taken by Mark McClendon.