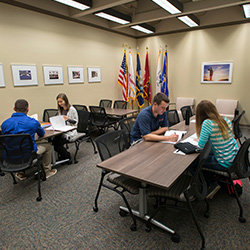 UTSA Libraries is proud to announce the grand opening of a new room dedicated to UTSA's student veterans. The Veterans Study Room, located on the John Peace Library's 3rd floor (JPL 3.03.54), was funded in part through a generous donation from the USAA Foundation.
With nearly 3,350 veteran students, spouses and dependents attending UTSA, the room addresses a strong need by offering a quiet space for the university's military community to study and relax. In addition to new furniture, three laptop computers, and a bookshelf full of library resources relevant to veterans, visitors will also find information about UTSA's Student Veterans Association (SVA) in the room.
"Being a veteran who suffers from PTSD, a class with over 300 students is extremely exhausting. I tend to keep on alert at all times and any little movement will get my attention," said Victor Gonzalez, SVA president. "Now that this space is available, it's a lot easier for me to go in and let my nerves unwind, read a book, or focus and get my homework done with limited peripheral distractions."
The SVA played a key role in designing the Veterans Study Room, collaborating with UTSA Libraries to identify the space and help select the furnishings.
Since the room's soft opening in early September, it has received numerous positive reviews from students. On the first day it opened, students left behind whiteboard comments to express their gratitude. "Thank you so much for the space," read one comment. "I will be in here every day."
Visit our Veterans Day Pinterest Board
Visit the Veterans Study Room Grand Opening Photo Gallery on Facebook