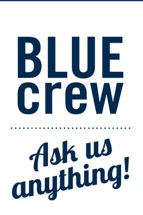 Everyone at the UTSA Libraries, aka the "Blue Crew," welcomes each one of you. And because just one library isn't enough, we've got three! These locations include the John Peace Library (JPL) at the Main Campus, the Downtown Library (DTL) located in the Buena Vista Building at the Downtown Campus, and the Applied Engineering and Technology Library (AET), a "bookless" library located on the Main Campus.
We want the library to be your "home away from home," so make it a habit to see us early and often. Our mantra is "Ask Us Anything!"
We hope you will enjoy this three-minute video introducing you to all the ways the UTSA Libraries are here to support your success as a student.
See you soon!
The Blue Crew
#utsalibraries