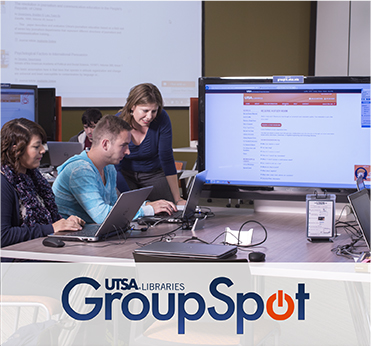 GroupSpot is located on the second floor of JPL, near the Information Desk. It's the perfect space for working on group projects.
Using GroupSpot
Thanks for following these guidelines to keep GroupSpot productive and pleasant for all.
Tables are not movable - attempting to move them will damage computer cables
Throw away all trash
Avoid eating messy food items
Wear headphones to listen to personal audio
Share your table with others if working individually
Read more about our environment policies
Room Features
A whiteboard wall divides the two sides of the room - write away!
Side A is open all the time for student study/collaboration
Each side has ten tables, and every table is equipped a 46" shared display monitor
Software
GroupSpot's laptops come equipped with the same software found on other JPL computers, with the addition of several other programs:
Collaboration software allowing groups to share and manipulate files from their laptops on the table monitor
SPSS v 22 - a software package used for statistical analysis
EndNote - a tool for publishing and managing bibliographies, citations and references
PuTTY - a telnet and SSH program for connecting to Pine and the UNIX servers and other telnet/SSH hosts over the internet
Problems? See us at the front desk!
For Faculty - Using GroupSpot for a Class
Faculty may reserve GroupSpot for one-time class sessions during certain times of the semester.