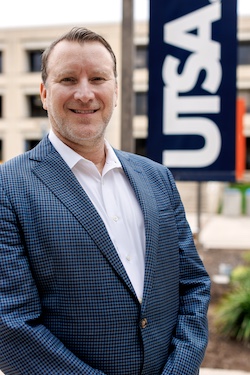 Welcome to the University of Texas at San Antonio Libraries!
Every day at UTSA Libraries, I am inspired by how students use our resources to innovate and create new knowledge. Even more inspiring to me is how students use our space: as a student success center and second home.
I am so proud that we are able to offer students more than what they need to get that "A;" we provide them a space for collaboration, discovery, and a sense of belonging. I remain steadfast in my commitment to provide resources and spaces that advance student success.
Our dedication to supporting student success formed our three priorities of expanding our free textbook program to save students money, fundraising for a third-floor renovation of JPL into a makers lab, and increasing our engagement with students and the community through Special Collections. 
As we work to establish ourselves as a premier public research library, model for student success and an exemplar for strategic growth and innovative excellence, these are exciting times for UTSA and the Libraries. In concert with UTSA's vision, we are building a library system that is distinctive, innovative, flexible and connected to our communities. 
Join me in creating San Antonio's next generation of leaders.
See you around campus,
Dean