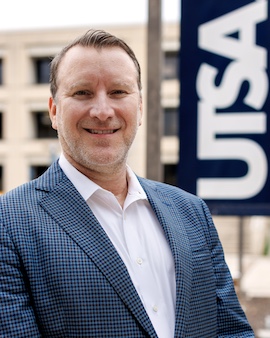 Vice Provost & University Librarian
Profile
As University Librarian, Dean Hendrix provides leadership, strategic direction and vision for the UTSA Libraries. Working with librarians, staff, faculty, students and the broader UTSA community, Dean aligns the libraries' services, spaces and expertise with the research, educational, community engagement and public service mission of the university.
Identified as one of the top 20 librarian contributors to library and information science literature worldwide, his research focuses on bibliometrics, research impact, data management, strategic planning, social networks and e-textbooks.
Dean earned a Bachelor of Arts in the Plan II Honors Program and a Master of Library and Information Science from the University of Texas at Austin. His ORCiD ID is 0000-0002-5662-0095.
See Dean Hendrix's curriculum vitae
Welcome message from the vice provost