(January 2, 2023)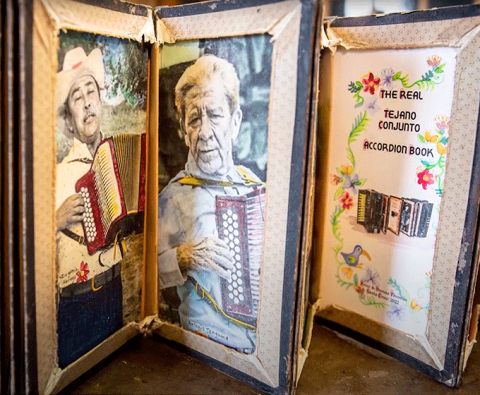 UTSA Libraries Special Collections has announced the debut of "The Real Tejano Conjunto Accordion Book," a one-of-a-kind book and piece of art that tells the story of accordionists and the musical art form that they helped develop in and around San Antonio and the Rio Grande Valley.
"We commissioned 'The Real Tejano Conjunto Accordion Book' to highlight the importance of the accordion and accordionists in Tejano music," said Steph Noell, special collections librarian. "While the format of the book will excite and intrigue people, the content is just as important as it highlights a segment of music and musicians who are major figures in Tejano music but are rarely talked about."
"The Real Tejano Conjunto Accordion Book" joins more than 250 other "artists' books" in the Rare Books Collection at UTSA Libraries that have been preserved and are publicly accessible in perpetuity for students, faculty and researchers. Artists' books are works of art in which artists use the medium of books to create small print runs or one-of-a-kind objects.
"Some are readable, and some are just art, but they all stretch the imagination of what we consider a book," Noell said.
In this video, book artist Peter Thomas talks about why and how he and his wife, Donna Thomas, created the book with assistance from the Arhoolie Foundation. The foundation was created from the work of founder Chris Strachwitz and his seminal independent record label Arhoolie Records. They are dedicated to documenting, preserving and celebrating regional roots music and its makers with a particular emphasis on the genres of Blues, Cajun/Zydeco and Tejano/Norteño.
Explore Further