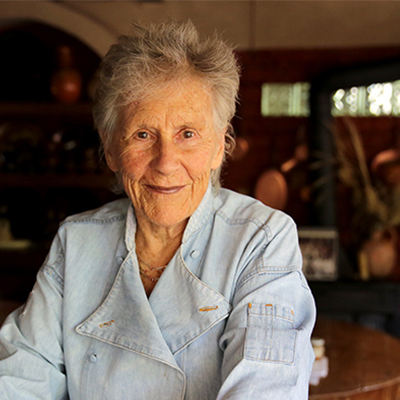 In late February, Diana Kennedy, 96, traveled the 892 miles from her house in Michoácan, Mexico, to San Antonio to hand-deliver her archival collection to the care of UTSA Libraries. 
UTSA Libraries Special Collections now preserves Diana's rare books library and archives, and will foster the scholarly use of its rich, personal and original contents when it opens for research in Fall 2019. 
The archive contains Diana's collection of eleven, 19th century Mexican cookbooks and eight linear feet of personal papers documenting her life's work. Additional material such as Diana's working library and the remaining research papers will also transfer to UTSA Libraries.
"I think it seems to be a natural bridge between Mexico and the U.S., really," said Kennedy of her collection finding its home in San Antonio.  
"San Antonio has always been a good crossing point, and I think it would be used here, the Collection." 
Diana's personal papers include her culinary and botanical research notes from each state in Mexico that document culinary traditions, cooking techniques, ingredients, and diary-like written observations and accounts of her travels and interactions with residents and cooks across the region. The collection also consists of photographs, scrapbooks, menus, and original correspondence with prominent chefs such as Julia Child, Paula Wolfert and Daniel Maye. Her 19th century Mexican cookbooks include a copy of the 1828 "Arte Nuevo De Cocina y Reposteria Acomodado al Uso Mexicano," possibly the only extant copy.
Native of Britain, Diana built her expertise in Mexican cuisine through 50 years of documented travel throughout Mexico, eventually leading to nine published cookbooks and the honors of Order of the Aztec Eagle, the highest honor awarded by the Mexican government to foreign nationals, and the Order of the British Empire. 
The Diana Kennedy Culinary Archive and Mexican Cookbook Collection adds to the 1,900-volume Mexican Cookbook Collection at UTSA Libraries Special Collections, already one of the nation's largest collections of its kind. 
The third annual Ven a Comer celebrated and showcased materials from Diana's archive on May 5, 2019. Renowned Mexican chef Juan Cabrera and local San Antonio chefs Elizabeth Johnson, Sergio Remolina, John Brand and Jaime Gonzalez, honored Kennedy and her collection with a menu inspired by her life's work, served to honored guests and community leaders, including UTSA Libraries' featured guest, Diana Kennedy. 
Proceeds from Ven a Comer support the development and preservation of the Diana Kennedy Culinary Archive and Mexican Cookbook Collection.