(September 7, 2023)
UTSA Libraries announces a newly expanded Ven a Comer celebration with the theme, "Mujeres." This year's celebration will commemorate and recognize the contributions of women throughout history who have sustained Mexican cooking traditions and inspired future generations of chefs. Ven a Comer 2023 will include several events to support UTSA's Mexican Cookbook Collection.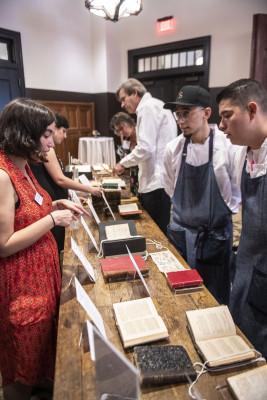 "Ven a Comer has always been a unique collaboration. It allows contemporary chefs to delve into recipes of the past and gives San Antonians a unique opportunity to connect with culinary history through the modern interpretations of today's chefs," said Amy Rushing, assistant vice provost for UTSA Libraries Special Collections. "UTSA Libraries has over 2,500 book titles in English and Spanish documenting the history of Mexican cuisine. This year, we are happy to showcase the many female authors who have put Mexican cooking on the map."
She added, "We have recipe books from as old as 1789 to the present; they feature books by Josefina Velásquez de León, who published more than 140 cookbooks, and Vicenta Torres de Rubio, Mexico's first female cookbook author. This year's Ven a Comer will indeed be a celebration of mayoras."
Ven a Comer Schedule of Events
Help support UTSA's Mexican Cookbook Collection and dine with fellow Roadrunner foodies on a special eight-course menu of recipes inspired by the Mexican Cookbook Collection. Visit http://restaurantmixtli.com/tickets to purchase tickets and schedule when you want to dine. Reservations are available every 15 minutes. Partial proceeds from ticket sales will be donated to the Mexican Cookbook Collection.
Inspired by the Mexican Cookbook Collection, Mixtli chefs spent three months combing through over 50 books from the collection for their new menu, which will run throughout September and for these two special nights.
"Women are the head of the household in Mexico, and for many years, they have not gotten their dues for creating some of the most quintessential recipes in Mexico as we know them now," said Chef Rico Torres, Restaurant Mixtli co-owner and executive chef. Learn more about the inspiration.
In partnership with UTSA Libraries and the Consulado General de México en San Antonio, Carriqui will host Ven a Tomar, where guests will sample mezcal, cocktails and unique bites while learning from Mezcal expert Pedro Jiménez Gurría. $65 for tickets.
This annual multi-course dinner is sponsored by the Pearl, Hotel Emma, UTSA Libraries and the Consulate of Mexico in San Antonio. This year's night of food, fun and drinks will be prepared by James Beard Foundation Award winner for Best Chef and Executive Chef and Owner of El Naranjo, Iliana de la Vega; San Antonio's own Alexana Cabrera, Chef de Cuisine at Restaurant Mixtli; and James Beard Foundation Semifinalist and Pastry Chef for Hotel Emma, Sofia Tejeda, with a mezcal tasting by Gurría. For tickets, email felipe.barrera@utsa.edu.
"I am honored and grateful to be included in ¡Ven a Comer! We were recently invited to browse the collection and I came upon a cookbook by Josefina Velásquez de León, one of my favorite authors. Truly inspired by the past, I'm excited to make delicious food alongside such talented chefs of our present," says Chef de la Vega.
"Ven a Comer is one of the best examples of how innovative culinarians and supporters come together to benefit a resource like UTSA's Mexican Cookbook Collection," says Michael Joergensen, Pearl's chief marketing officer. "Pearl is proud to partner as the gathering place for this experience as we honor history and the chefs' interpretations of these valued recipes."
Join us for a culinary celebration on the lawn at the UTSA Westside Community Center, where UTSA Libraries will collect recipes and food memories. Eat your way through the Mexican Cookbook Collection as food trucks will be on hand selling bites inspired by cookbook collection recipes.
As a special treat, ¡Disfrútalo! enjoy DJ Despeinada's all-vinyl set of canciones culinarias, and food-songs from South Texas, México, and Latin America. From rare vintage recordings to up-and-coming música, hear records that cross borders and create bridges, including cumbias calientes, conjunto clasico, fruity Tropicalia, tasty Tejano jams and salsa music. Advanced registration is required. The first 100 registrants receive complimentary food.
Join us for a cookbook-making workshop where you can assemble all your family recipes in one place. Bring your own recipes (printed or handwritten!) to make a booklet to share with family and friends. Special Collections staff will provide examples, instruction and supplies. Books from the Mexican Cookbook Collection will be on display to serve as inspiration. The workshop is limited to 20 attendees.
The Mexican Cookbook Collection is part of the library's special collections and has brought national recognition to the university.
"Thanks to events like this and the support of so many, the Mexican Cookbook Collection has become an important resource in telling the story of Mexican cuisine and way of life," said Felipe Barrera, UTSA Libraries director of development.
Chef Torres, who participated in the original Ven a Comer signature dinner in 2017, added, "The Mexican Cookbook Collection is kind of my secret weapon for menu development. There's value in having this collection at UTSA. It adds to the fact that San Antonio is a gateway to Mexican culture."
Explore Further
Find out more about the Mexican Cookbook Collection
Donate to UTSA Libraries Special Collections