(August 24, 2022)
UTSA Libraries and its many services are an essential component of the college experience for students and faculty. Roadrunners can borrow tech gear, reserve study spaces, chat with a librarian to get their reference questions answered, and much more.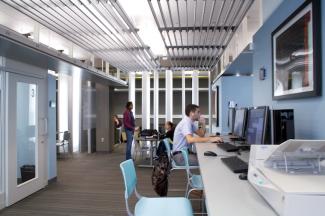 "I received help beyond what I was asking," and "I would not have gotten through this project without you," are some of the comments Libraries staff receive from students and faculty every semester.
The UTSA community may access library services at the John Peace Library (JPL) and the Applied Engineering and Technology Library (AET) on the Main Campus and the Downtown Library (DTL). Both the JPL and the DTL are open seven days a week. The JPL also offers 24-hour access Monday through Friday. For a full list of hours and locations, visit lib.utsa.edu/hours.
"The library's staff is inspired by our wonderful students and faculty," said Vice Provost and University Librarian Dean Hendrix. "Their creativity, intelligence, and heart drive us to make positive differences that fosters success."
Below are some of the library services available to students and faculty
One happy patron remarked on the service they received, "UTSA librarians have not failed me once and it seems like they're always there, ready and happy to help. They are able to find and deliver within minutes."